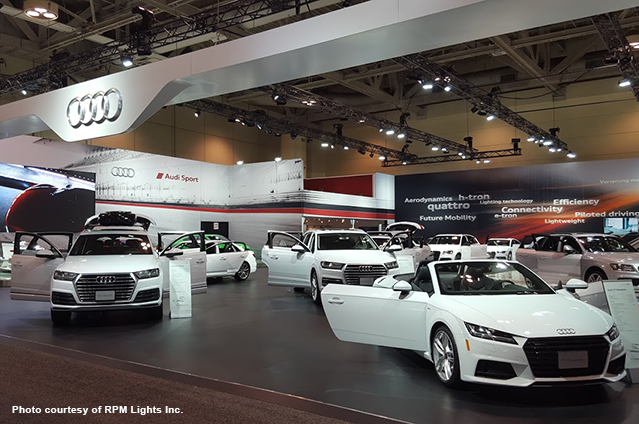 RPM Lights Inc. has created a strategic partnership with A.C. Lighting, Chroma-Q and PROLIGHTS to create success in their markets.
RPM Lights Inc. is a loyal and long-time supporter of A.C. Lighting Inc. carrying a variety of Chroma-Q® LED Lighting products. Backed by a solid partnership between the executives of both companies, RPM Lights Inc. owners Jimmy Pappas and Glen Murphy, developed and built their vision for LED lighting in the Canadian marketplace 8 years ago. With multiple decades of lighting and rigging industry experience between them, Pappas and Murphy built a reputation for their ability to adapt and utilize state of the art technology to achieve outstanding results in the markets and industries their company serves.
RPM Lights Inc. is a Toronto based rental and sales supplier offering an array of LED lighting products to Trade Shows, Film, TV and Live Entertainment industries. Working with well-known trade shows such as the Canadian Auto Show, as well as on popular TV shows and films including Designated Survivor and Big Brother, RPM Lights delivers lighting solutions that continually exceed the goals of their clients to make these events and productions look their absolute best.
RPM Lights Inc. originally worked with the Chroma-Q® Studio Force LED lighting fixtures looking for a bright LED fixture that would bring life to the vehicles displayed at the Canadian Auto Show. Working together with AC Lighting Inc. over 4 years led to the development of the Studio Force DXT, a fixture that now lights over 75% of the vehicles shown at Auto Shows across Canada. These fixtures not only provide a vastly improved brightness, but they also greatly reduce the electrical consumption required, weigh less than traditional fixtures, and reduce maintenance costs, all of which add up to increased savings for RPM Light's clients.
With the success of the Studio Force products, RPM Lights became an early adopter of the Chroma-Q® Space Force fixture when it was first introduced. These day bright studio fixtures were the ideal choice for studio lighting for film and TV, and with the option of either tungsten or daylight options, the Chroma-Q Space Force quickly offered clients flexibility that was not available before.
"We enjoy using the Chroma-Q® brand, especially the Studio Force and Space Force product lines because of the cutting-edge LED technology that Chroma-Q® uses," comments Jimmy Pappas. "The outstanding results these fixtures deliver made them increasingly popular in the marketplace. Combine that with the savings our clients see in reduced electrical bills and installation times and these LED fixtures are a home run."
"RPM Lights Inc. takes pride in the products we rent and sell," continues Pappas. "The majority of our lights are made in North America under very high standards, and are the brightest in the business. We have put them up against most LED fixtures on the market and they not only outshine the competition, but they have very smooth dimming and a very even wash so you won't see lines where they overlap. They really make the product pop."
Recently, RPM Lights Inc. adopted the new PROLIGHTS Eclipse-FS, a full color RGB+Lime LED Ellipsoidal that was introduced into the market in mid-2018. As the live entertainment industry continues to shift towards LED lighting, RPM Lights Inc. has continued to add new LED technology ready to serve and supply the marketplace in new and innovative ways.
"It's because of our long-standing relationship with JF (Managing Director of A.C. Lighting Inc.), and our trust in A.C. Lighting Inc. and the brands that they carry, that has helped us become successful in the trade show, film, TV and live entertainment markets." explains Glen Murphy, owner, RPM Lights Inc. "A.C. Lighting Inc. has been a true partner to us helping us grow and become a force within the industry. The support that A.C. Lighting Inc. has provided has allowed us to accomplish our goals in a short period of time."
When asked what is next for RPM Lights Inc. both Pappas and Murphy responded that they will continue their expansion into the U.S. marketplace and further assist their clients in achieving their lighting goals through the supply of outstanding products and services.
Products Used:
Chroma-Q products including Space Force, Studio Force, Color Force II
PROLIGHTS Eclipse-FS
Recent Studies
Studies Search