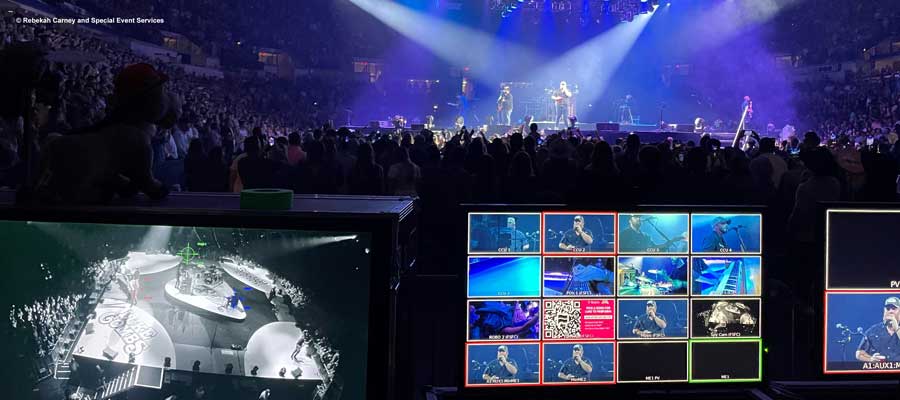 When Luke Combs finally hit the road again for his What You See is What You Get tour in 2021, he was happy to be back in the spotlight after the collapse of his 2020 tour due to the pandemic. But this time, the spotlight will be a Follow-Me 3D Six system, which is being supplied by Special Event Services (SES) of Mocksville, NC, and Nashville, TN.
Jeff Cranfill, Vice President of SES, chose the Follow-Me system, and he said that the first thing that caught his attention about it was that it could be used with any DMX moving light. "That's going to be a huge advantage," he said.
He fully realized the potential of the system when he used it on another show in Minute Maid Park in Houston. Instead of using traditional follow spots, they used Ayrton Domino LT (long throw) with a throw of approximately 270 feet (82.3 meters) from the press box to the stage. By day, he used them primarily as front key light for the video, and later, when a live band performed on the same stage, they went into follow spot mode using Follow-Me. He initially spent time setting the fixture up for video front lighting until they were needed for follow spots.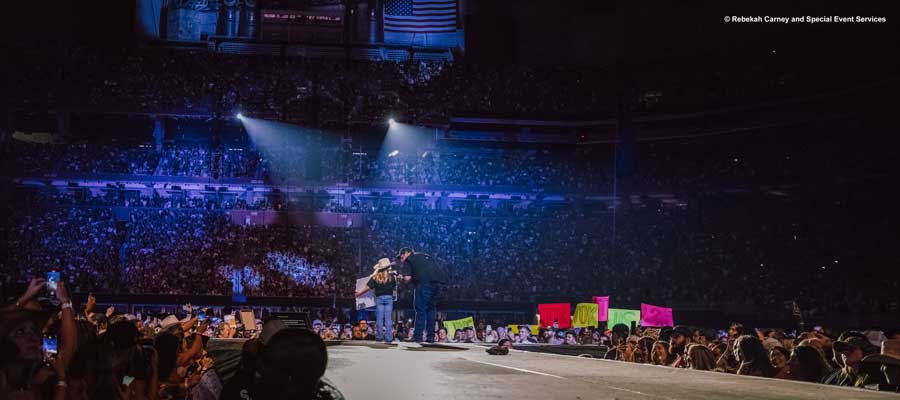 "I was able to take the fixtures, make a big wash, shutter it, get the color temperature, everything right for video," he said. "But on one of the nights they had a concert, and within a matter of seconds we were able to convert back into the Follow-Me system, and those lights that I had been using as video key lighting became the follow spots for the night."
"We literally turned it around in about 15 minutes. And I'm going, 'Is this going to work?' <Laughs> I sat back and let the guys do what they do. And 10 minutes later, I see these lights traveling across the stage and these beautiful, nice circles. They're running the iris up and down and the level up and down, and I went, 'That's awesome. We've got follow spots.'"
With that long of a throw, you might think it would be hard to control the spots with the Follow-Me Mouse Console. But Cranfill said the control was "just amazing."
"We've got some guys that are very well versed on it now and know the setup," he said, which he said was easy to do.
With the Follow-Me system, an unlimited number of fixtures can be used as remote follow spots at the same time.
"The beauty of this is, I can have one fixture that I'm controlling, or I can control an unlimited number of fixtures instantly," he said. "I realized really quickly, if you put enough time and thought into this, you can come up with some really innovative things that can't be accomplished with a traditional follow-spot set up."
The Follow-Me function can be enabled and disabled at any time during the show, which is used to great advantage on the Luke Combs tour. The current tour is a 360-degree in-the-round show.
"It has the ability to pick fixtures from any of the four quadrants of the rig in the round and use them as follow spots on Luke," Cranfill said. "For certain elements of the show, they were able to write macros in the console where they could easily swap to another fixture and pick Luke up, going down this big, huge stage thrust and follow him all the way into the main stage with it. It worked great."
SES also has a Follow-Me system on the Rod Stewart show where moving lights are used for front spots. Cranfill said he likes the unique ability to control every aspect of the follow spots, including color, from the console.
"I like old-school rock and roll ways of doing things," he said. "I still like follow spot shows that use color and the fact that the color is programmed into the show file. They're coming from the lighting console, yet someone can manipulate the pan and tilt, zoom, and iris. It's not questionable; it works every time, which is great."
Cranfill also said it was simple to set up and learn to use. After a quick telephone tutorial, he said he had a full working knowledge of the system.
"I think that's really important because I often work with people that are way younger and less experienced," he said. "And I think that you can't make things too complex. We got the first system up and running in a day and it went out on Luke Combs.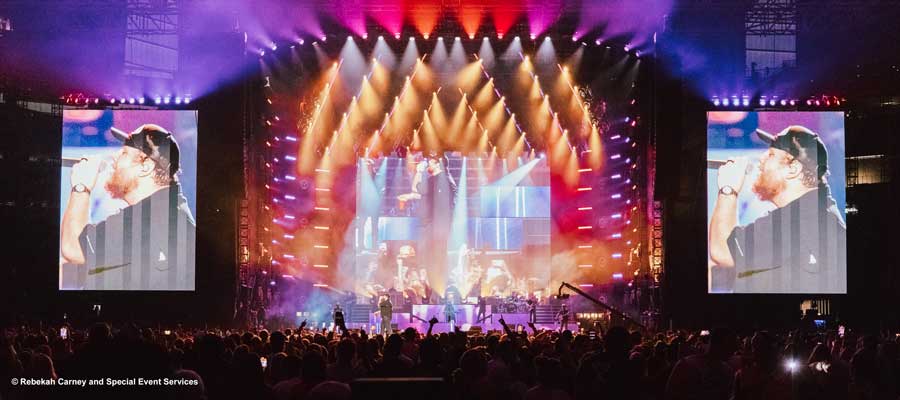 "The one thing I love about it, every time somebody described a step or a function or a setup or anything like that, it was so simple."
That simplicity includes the calibration. Once the X, Y, and Z values for each fixture are put in the system, a mesh is created in the 3D model by adding calibration points. The mesh allows for scenic elements such as stage risers, decks, and other scenic elements to automatically account for changes in elevation. After a quick video camera calibration, you're ready to go. Cranfill said that calibrating the system "was not a tough job."
"Our technician had it all done in less than half an hour," he said.
Follow-Me is distributed in North America by AC Lighting Inc.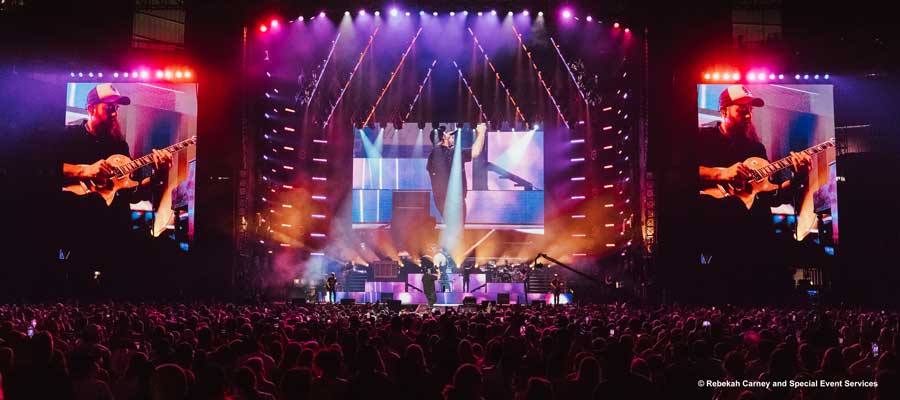 ---
Images: © Rebekah Carney and Special Event Services
About Follow-Me Tracking Solutions
Based in the Netherlands, Follow-Me BV manufactures remote follow-spot, and performer tracking solutions, Follow-Me 3D systems. It is scalable and can manually track from 1 to 6 performers with unlimited fixtures, by adding Follow-Me Track-iT, unlimited performers can be auto-tracked from a single Follow-Me system. Follow-Me 3D is fixture independent: it can control any brand of moving light via Art-Net, sACN & incorporate PSN.
Follow-Me 3D systems are used internationally, currently, the wide array of applications ranging from international tours with artists such as Genesis, to TV shows like The Masked Singer, theatrical productions, EXPO 2021 Dubai, theme parks, and many other acclaimed applications.
About A.C. Lighting, Inc.
A.C. Lighting, Inc. is a value-added distributor of world-class lighting and associated rigging technologies for the theater, film, television, worship, exhibition, and commercial markets. A.C. Lighting Inc. a North American distributor for premier brands including Chroma-Q® LED lighting, Vista by Chroma-Q lighting and media control surfaces, PROLIGHTS high value and high-performance range of lighting, video and effects products, Luminex Networking Intelligence manufacturer of data distribution equipment, Manfrotto and Avenger: Professional Lighting Stands and Accessories, Follow-Me Remote Follow Spot Control Systems, LumenRadio wireless lighting controls and Prolyte staging and trussing.
For more information, please visit www.aclighting.com or call 416.255.9494
Don't forget to follow A.C. Lighting Inc. on Social Media:
Recent Studies
Studies Search