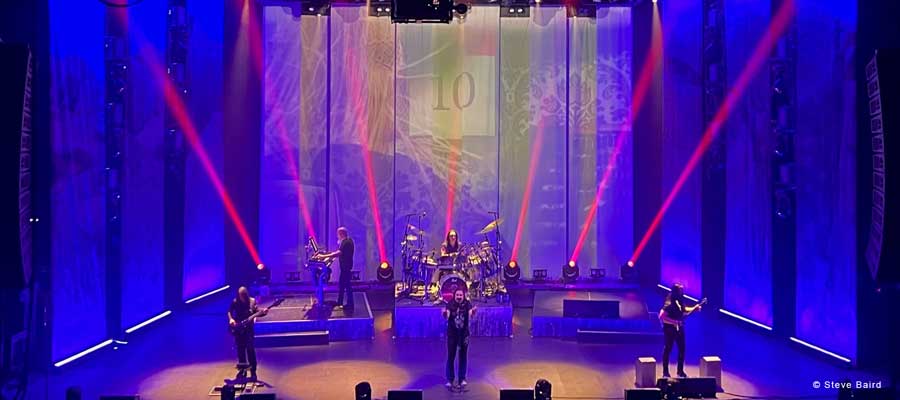 Chroma-Q's Color Force II 72 used to light the stage for Dream Theater
Worldwide – March 2, 2023
2022 Grammy-winning Prog Giants Dream Theater worked throughout the pandemic to create their newest album "A view from the top of the World". In January 2022 they set off on their world tour named "Top of the World Tour." The entire vision was created in their Dream Theater headquarters (DTHQ) in the USA.
Steve Baird has been the Lighting Designer for Dream Theater from 1995 to 2000 and then returned in 2007.
"As a drummer and artist, I have an innate passion for music, lighting, and how a live show functions smoothly while impressing the audience." The artistic, and creative work of Baird, is what allowed him to light a simple, yet creative stage for Dream Theater.
The band wanted floor-to-ceiling video projection, and Baird's role was to come up with a vision for the lighting and video that would make the audience gasp. The album cover is a scene between 2 mountains in Norway, with a rock suspended between the gap of the mountain.
To create a stage that was Dream Theater's own environment, and unique look. 6 White fabric panels were used in front of a white projection screen to create a projection surface with depth, a kind of 3D. Along the sides were 6 digitally printed fabric panels, 3 on each side with the two mountains from the album cover. This was done so that when the audience walked into the venue the album cover was projected on the center surface and the sides were used to extend the two mountains.
When it came to lighting the panels, I wanted to use the Chroma-Q® Color Force II™ 72's fixtures. The fixtures were hung at the top and the bottom of each panel to provide full color on the set. "The Chroma-Q® Color Force II™ fixtures provide great powerful colors, and I think the best saturation on the market," explains Baird "Dream Theater has a powerful show. Using the fixtures to color match the video for the best audience experience was the ideal choice."
"There is nothing like the sound and vibe from the audience once the first (lighting) cue starts." reminisces Baird.
Lighting was supplied to Baird by Christie Lites via A.C. Lighting for the Canada and USA leg of the tour, and A.C. Entertainment Technologies for Europe. In 2023, Dream Theater went back to Europe to commence the next leg of the tour.
---
Images © Steve Baird stevebairddesigns.com
Don't forget to follow A.C. Lighting Inc. on Social Media:
---
About A.C. Lighting, Inc.
A.C. Lighting, Inc. is a value-added distributor of world-class lighting and associated rigging technologies for the theater, film, television, worship, exhibition, and commercial markets. A.C. Lighting Inc. is a North American distributor for premier brands including Chroma-Q® LED lighting, Vista by Chroma-Q lighting and media control surfaces, PROLIGHTS high value and high-performance range of lighting, video and effects products, Luminex Networking Intelligence manufacturer of data distribution equipment, Manfrotto and Avenger: Professional Lighting Stands and Accessories, Follow-Me Remote Follow Spot Control Systems, LumenRadio wireless lighting controls, and Prolyte staging and trussing.
For more information, please visit www.aclighting.com or call 416.255.9494
About Chroma-Q
Chroma-Q and all associated product names are recognised trademarks, for more information visit www.chroma-q.com/trademarks. The rights and ownership of all trademarks are recognised. Whilst every effort has been made to ensure that the information is correct, Chroma-Q accepts no liability for errors or omissions. Technical specifications and data are provided for guidance only. Because we constantly aim to improve our products, we reserve the right to amend or alter at any time and without prior notice, the specifications of any product. E&OE.
---
Editor's note:
Chroma-Q® have been designing lighting equipment for over 25 years, with a reputation for high product quality, innovation and reliability.
Today, LED based lighting products are the core of Chroma-Q's portfolio.
Chroma-Q have gained a reputation for introducing award-winning, premium LED lighting solutions which deliver the highest performance levels required by today's most demanding applications - including concerts & theatre shows, film & TV broadcasts, retail, leisure & museum installations, exhibitions & corporate hospitality events.
Follow Chroma-Q on Social Media:
www.facebook.com/chromaq.lighting
Please visit www.chroma-q.com for more information and a full list of Chroma-Q dealers.
Recent Studies
Studies Search