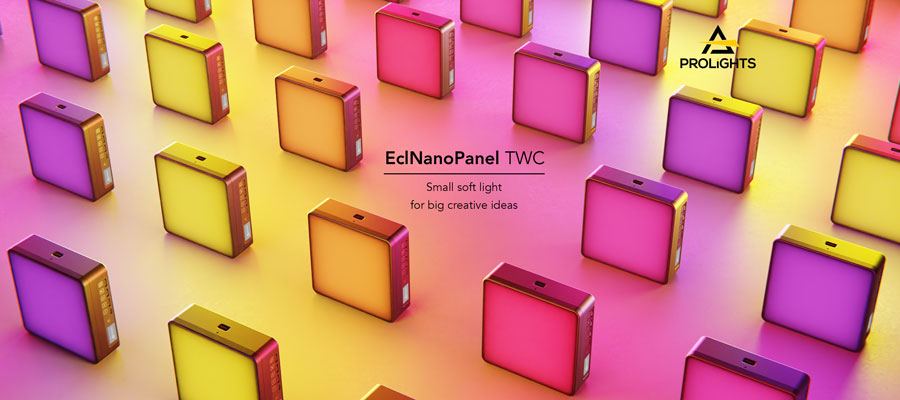 PROLIGHTS has debuted the EclNanoPanel TWC, the smallest member of the successful EclPanel range, containing all the outstanding features of the larger format soft lights in a compact-sized, battery-operated luminaire.

The new fixture has a 30W RGB+WW source, producing a surprisingly powerful 1,800-lumen output. Its colour technology is the same as the other ECL soft lights, producing rich colours, high-quality white tones, colour gel matching, and onboard pixel cinema effects. The EclNanoPanel TWC is also Spektra™ calibrated, matching in colour and whites as the other fixtures in the soft light range.

The EclNanoPanel TWC has three precision encoders, with multiple stand-alone control modes: CCT with +/- green shift, CCT presets, HSI, saturation and intensity, RAW RGBW mode, XY and cinema effects mode.

There are also several colour control modes available: RGBW, RGB, CMY, HSI, XY, RAW Direct, CCT Linear and CCT presets with +/- green shift, source emulation and industry-standard colour gels. It's also possible to create pixel mapping effects through the 4-section pixel control, using a USB-C to DMX/RDM cable or the integrated Wireless DMX control (W-DMX and CRMX).

The EclNanoPanel TWC has a long-lasting battery, with selectable battery-life options, balancing a bright output for a shorter time (approximately two hours at full) to a run time upwards of 18 hours. The fixture recharges with a USB-C connector in under three hours.

No detail was left unplanned: accessories include easy mounting adaptors for C-stands and articulated arms, suction cup mounts, magnetic mounts, camera adaptors, among others. Not only that, but there are four magnetic beam-shaping filters, barndoors, and DoP choice accessories for all kinds of applications.
The EclNanoPanel TWC will be available in North America later in 2022.
Visit PROLIGHTS website
Visit the EclPanel Family webpage
---
Don't forget to follow A.C. Lighting Inc. on Social Media:
About A.C. Lighting, Inc.
A.C. Lighting, Inc. is a value-added distributor of world-class lighting and associated rigging technologies for the theater, film, television, worship, exhibition, and commercial markets. A.C. Lighting Inc. a North American distributor for premier brands including Chroma-Q® LED lighting, Vista by Chroma-Q lighting and media control surfaces, PROLIGHTS high value and high-performance range of lighting, video and effects products, Luminex Networking Intelligence manufacturer of data distribution equipment, Manfrotto and Avenger: Professional Lighting Stands and Accessories, Follow-Me Remote Follow Spot Control Systems, LumenRadio wireless lighting controls, Jands StageCL and Prolyte staging and trussing.
For more information, please visit www.aclighting.com or call 416.255.9494
About PROLIGHTS
PROLIGHTS is the professional lighting division of Music & Lights S.r.l., an Italian company specialized in the manufacture of technologies for the show industry.
The PROLIGHTS brand was established in 2001 with a focus on the design and manufacture of professional lighting & video products for the entertainment, event, broadcast, and installation markets.
PROLIGHTS is headquartered in Minturno, Italy, where the company's commercial, operational, and R&D centres are all located.
PROLIGHTS continues to experience sustained growth across all sectors, with its products found on stages and in studios all over the world. Founder Franco Sorabella, and his son Fabio, are both actively involved in the day-to-day running of the business and in the development of the product range.
For more information, please visit https://www.aclighting.com/prolights-lighting or call 416.255.9494
Recent News
News Search