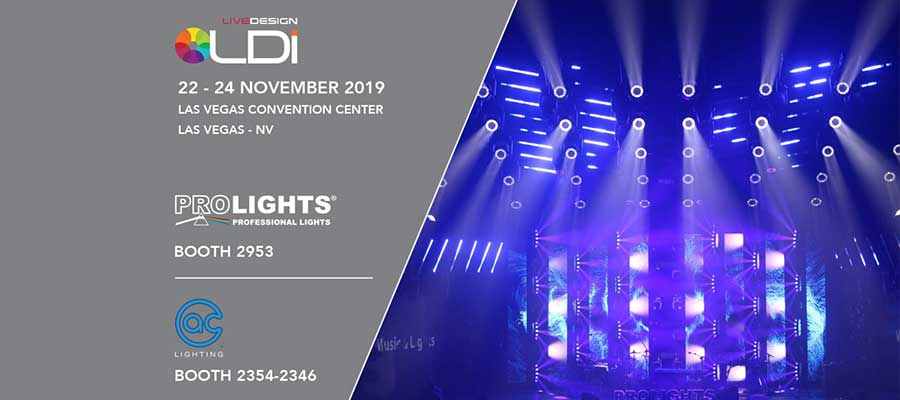 A.C. Lighting Inc. in partnership with PROLIGHTS will show off PROLIGHTS latest technologies at the upcoming LDI Show, held at the Las Vegas Convention Centre from the 22nd to 24th of November, in booth 2953 (PROLIGHTS) and 2354/2346 (A.C. Lighting, Inc.).
PROLIGHTS is excited to announce their first independent booth at LDI entirely dedicated to showcase their latest high-tech (lighting) technologies. PROLIGHTS will delight the attendee with an in-booth show involving over 200 lighting fixtures every hour starting at 11:30am. The booth features the time-coded show and interactive demo stations which will allow visitors to have hands-on product demonstrations.
The exhibition will be the occasion to celebrate the remarkable success of the PROLIGHTS brand in the North American market which is being accomplished through the close cooperation with the distributor AC Lighting, Inc. LDI also represents the perfect stage to showcase some of the latest products such as the PIXIEWASHXB and iconic popular fixtures including the ECLIPSE FS profile.
The PROLIGHTS stand will host multiple events including an Italian "Aperitivo" that will be served on Friday 22nd November starting from 4 p.m.
LDI 2019 will also be the official launch platform for an important announcement from the company – stay tuned on the official channels to follow our exciting news.
To schedule a meeting or book your personal demonstration, please contact the PROLIGHTS or the A.C. Lighting Inc. team.
Have you registered for LDI yet? Click HERE to receive your exhibit hall pass using guest pass code EXINV225.
Don't forget to follow A.C. Lighting Inc. on Social Media:
---
ABOUT A.C. LIGHTING, INC.
A.C. Lighting, Inc. is a value-added distributor of world-class lighting, associated rigging and video technologies for the theater, film, television, worship, exhibition and commercial markets. A.C. Lighting Inc. is the exclusive North American distributor for world-class technology brands including Chroma-Q® LED lighting, Vista by Chroma-Q lighting and media control, PROLIGHTS high value and high-performance range of lighting, video and effects products, Luminex Network Intelligence manufacturer of data distribution equipment, Follow-Me Remote Follow Spot Control Systems, PROLIGHTS, LumenRadio wireless lighting controls, and Prolyte staging and trussing.
For more information visit www.aclighting.com or call (416) 255-9494.
ABOUT PROLIGHTS
PROLIGHTS is a brand established in 2001. The brand concentrates its focus in the design and manufacture of lighting technologies and professional video products for events, TV and architectural. The company still maintains in Italy its main R&D center that lead product development and coordinates the activities of production and external R&D units.
PROLIGHTS is experiencing a sustained growth in all sectors, with products that can be found in stages, concert halls and studios all over the world. M&L founder/owner Francesco Sorabella, and his son Fabio are both still actively involved in the day-to-day running of the company and very committed in the development of products.
For more information visit www.prolightsamerica.com/ or call (416) 255-9494.
Recent News
News Search