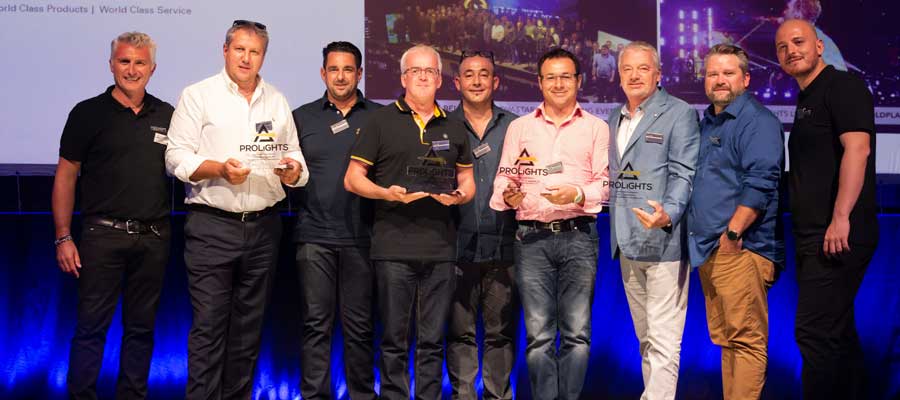 During PROLIGHTS Distributor Conference 2019, A.C. Lighting Inc. was presented with an award for OUTSTANDING PERFORMANCE for Single Product Establishment.
This honor was awarded to A.C. Lighting Inc. on their efforts introducing the ECLIPSEFS to the North American Marketplace.
Fred Mikeska, VP of Sales, and his Sales Team were instrumental in educating our customer base as well as the market on this must have ellipsoidal fixture, through demonstrations, tradeshows and product education. The demand for the ECLIPSEFS has been overwhelming with thousands of fixtures being sold within the past year.
The ECLIPSEFS is a full color LED ellipsoidal designed to deliver a full range of bold saturates, soft pastels, and stunning whites. The RGB+Lime LED engine has been specially designed and engineered to provide both a full range of colors and studio quality variable white light together with high-intensity output.
ProLights' high-definition, HQ optics feature industry leading optics providing a crisp, flat field with sharp gobo projection. The innovative HQ optics even allow for a soft focus while maintaining color integrity. The Eclipse-FS is available with 14°, 19°, 26°, 36°, or 50° HQ Optic lens tubes and accept industry standard accessories.
"In response to feedback from some of the world's leading lighting designers' PROLIGHTS and A.C. Lighting Inc. have teamed up to develop an ellipsoidal product for the North American marketplace." Explains Jean-Louis Blanchard, VP Business Development for A.C. Lighting Inc. "We are overwhelmed by the response for the PROLIGHTS ECLIPSEFS and are honoured to accept this award for OUTSTANDING PERFROMANCE for Single Product Establishment."
During LDI 2019, PROLIGHTS unveiled its new logo, new brand design, and the new website www.prolights.it.
---
About A.C. Lighting, Inc.
A.C. Lighting, Inc. is a value-added distributor of world-class lighting and associated rigging technologies for the theater, film, television, worship, exhibition and commercial markets. A.C. Lighting Inc. is the exclusive North American distributor for premiere brands including Chroma-Q®LED lighting, Visa by Chroma-Q lighting and media control surfaces, PROLIGHTS high value and high-performance range of lighting, video and effects products, Luminex Networking Intelligence manufacturer of data distribution equipment, Follow-Me Remote Follow Spot Control Systems, LumenRadio wireless lighting controls, Jands StageCL and Prolyte staging and trussing.
For more information, please visit www.aclighting.com or call 416.255.9494
ABOUT PROLIGHTS
PROLIGHTS is a brand established in 2001. The brand concentrates its focus in the design and manufacture of lighting technologies and professional video products for events, TV and architectural. The company still maintains in Italy its main R&D center that lead product development and coordinates the activities of production and external R&D units.
PROLIGHTS is experiencing a sustained growth in all sectors, with products that can be found in stages, concert halls and studios all over the world. M&L founder/owner Francesco Sorabella, and his son Fabio are both still actively involved in the day-to-day running of the company and very committed in the development of products.
For more information visit www.prolightsamerica.com/ or call (416) 255-9494.
Recent News
News Search