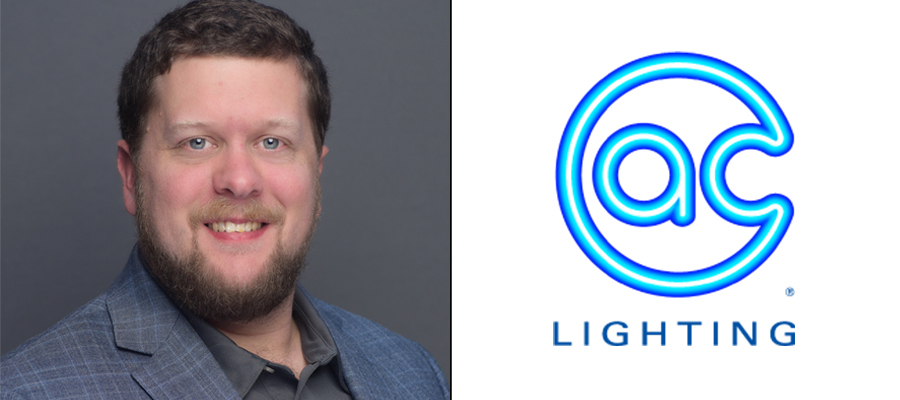 Meet Mike in booth 5853 during InfoComm.
North America, June 7, 2023 – A.C. Lighting Inc., distributor of world-class lighting and rigging technologies, is pleased to announce that Mike Farmer has joined the team as U.S. Sales Representative – Southeast.
Reporting to Fred Mikeska, Executive Vice President of Sales, Farmer will be responsible for developing the Southeast region of the USA, including creating relationships with our clients, offering excellent customer service, providing (one-on-one) demonstrations, and attending trade events.
Farmer has an extensive background in the professional lighting industry with a degree in Lighting Design/Technical Production. He has over ten years of experience working as a Systems Integrator, Mid-Atlantic Business Development for Barbizon Lighting, Inc., and Account Executive for 4Wall Entertainment.
"Mike has a broad range of industry experience and knowledge and a great reputation for working closely with dealers, rental companies, consultants, and end-users. Mike brings a level of service and cares that A.C. Lighting's clients have come to rely on. We are excited to welcome Mike to the A.C. Lighting team," says Mikeska.
"What I love about this industry is that you can go from a theatre in Virginia to the top of the tallest building in New York, or the largest theme park in the middle east and right back to your local community theatre, and lighting is what took me there!" comments Farmer
You can reach Mike by email Mike.Farmer@aclighting.com or phone 716-517-1561. Mike will be attending InfoComm in Orlando June 14-16, 2023. Stop by booth #5853 to meet him. Register for a FREE exhibit hall pass with our VIP CODE: ACL110 https://bit.ly/3CwjAxF.
---
Don't forget to follow A.C. Lighting Inc. on Social Media:
About A.C. Lighting, Inc.
A.C. Lighting, Inc. is a value-added distributor of world-class lighting and associated rigging technologies for the theater, film, television, worship, exhibition, and commercial markets. A.C. Lighting Inc. is a North American distributor for premier brands including Chroma-Q® LED lighting, Vista by Chroma-Q lighting and media control surfaces, PROLIGHTS high value and high-performance range of lighting, video, and effects products, Luminex Networking Intelligence manufacturer of data distribution equipment, Manfrotto and Avenger: Professional Lighting Stands and Accessories, Follow-Me Remote Follow Spot Control Systems, LumenRadio wireless lighting controls, Jands StageCL and Prolyte staging and trussing.
For more information, please visit www.aclighting.com or call 416.255.9494
Recent News
News Search