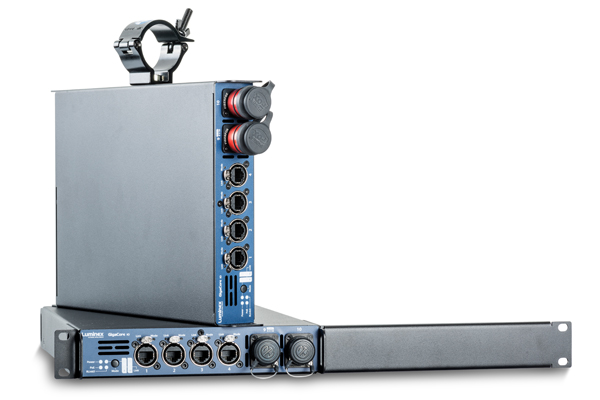 A.C. Lighting Inc., distributor of world-class lighting, rigging and video technologies, recently added Belgian-based Luminex Network Intelligence, manufacturer of data distribution equipment for professional lighting, audio and video applications to its exclusive brand line. This comes as part of a growth strategy aimed at galvanizing its robust North American Sales force.
Luminex Network Intelligence is a leader in the entertainment industry and system integration market when it comes to plug-and-play networking technologies. On top of that, Luminex recently launched the extremely versatile, effortless and reliable GigaCore 10 switch. The half 19" unit with front and rear connectivity is designed to be mounted in a truss, in a rack, or even on a wall. The robust metal enclosure and rugged Ethercon and (optional) Fiber connectors make this unit excel in truss mounted applications with Ethernet enabled devices, such as moving lights, PA systems, microphones, PTZ cameras or general stage connectivity.
Luminex will be showcasing their GigaCore 10 at LDI in A.C. Lighting Inc. Booth #2160, November 17-19th, at the Las Vegas Convention Center.
"This is definitely an exciting time," said Fred Mikeska, Vice President of US & Canadian Sales at A.C. Lighting Inc. "We strive to deliver only the best products and service to our clients, and Luminex offers an incredible range of data distribution equipment for the professional lighting market. Luminex is a top-of-the-line brand that provides cutting-edge technology and A.C. Lighting focuses on delivering state-of-the art solutions to the entertainment industry. We have known Luminex for some time and are excited to finally share the brand and its products with the U.S. and Canadian marketplaces.
"This is the beginning of a great venture," adds Hugo Larin, Director at Luminex America. "A.C. Lighting provides world class services to the lighting and video markets and it is a pleasure to partner with them. Luminex strives to provide top of the line support to its customer base and teaming up with A.C. Lighting is a natural next step to extend that level of service."
Visit the A.C. Lighting Inc. Booth #2160 at LDI to get your demonstration of the Luminex range and other leading technologies. To learn more about Luminex or A.C. Lighting Inc., please visit our website https://www.aclighting.com/luminex/.
---
ABOUT A.C. LIGHTING, INC.
A.C. Lighting, Inc. is a value-added distributor of world-class lighting, associated rigging and video technologies for the theater, film, television, worship, exhibition and commercial markets. A.C. Lighting Inc. is the exclusive North American distributor for premier brands including Chroma-Q® LED lighting, Jands Vista lighting and media control, LumenRadio wireless lighting controls, ArKaos Pro media servers and Prolyte staging and trussing.
For more information visit www.aclighting.com or call 416.255.9494
Recent News
News Search