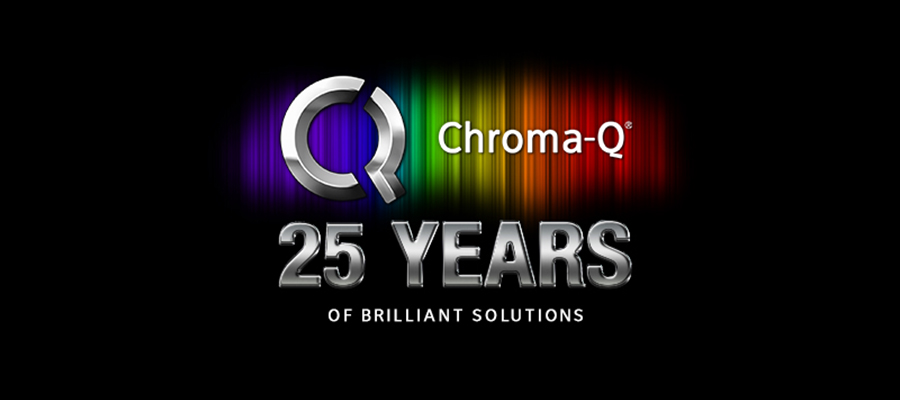 Renowned multi award-winning LED manufacturer, Chroma-Q, is proud to have been delivering its brilliant solutions for over 25 years!
Synonymous worldwide with quality and innovation, Chroma-Q products have been widely adopted across a range of sectors, including; Concert & Touring, Theatre & Performance, Corporate & Hospitality, Film, TV & Broadcast. Houses of Worship and more.
Chroma-Q Global Brand Manager, Paul Pelletier commented; "From our first color changer launched in mid 90's, through to the award-winning LED technology today, a lot of things have changed. One key thing that remains the same is our vision and dedication of bringing "Brilliant Solutions" to our customers, which to this day remains at the core of everything we do."
Over the past 25 years, Chroma-Q has launched numerous award-winning products, becoming one of the industry's leading lighting brands, with their products being featured on some of the biggest stages and productions around the world.
"We are so proud of all we have achieved over the past 25 years. The dedication and hard work of our teams and the drive to excellence of our wonderful customers are the key factors for the success of Chroma-Q. Thank you all for your continued support. We look forward to the next 25 years... we know it is going to be a bright one!" concluded Paul.
Please visit www.chroma-q.com for more information and a full list of Chroma-Q dealers.
Chroma-Q products are distributed in North America by A.C. Lighting Inc. www.aclighting.com
Follow Chroma-Q:
---
Chroma-Q and all associated product names are recognised trademarks, for more information visit www.chroma-q.com/trademarks. The rights and ownership of all trademarks are recognised. Whilst every effort has been made to ensure that the information is correct, Chroma-Q accepts no liability for errors or omissions. Technical specifications and data are provided for guidance only. Because we constantly aim to improve our products, we reserve the right to amend or alter at any time and without prior notice, the specifications of any product. E&OE.
---
Editor's note:
Chroma-Q® have been designing lighting equipment for over 25 years, with a reputation for high product quality, innovation and reliability.
Chroma-Q® have been designing lighting equipment for over 25 years, with a reputation for high product quality, innovation and reliability.
Today, LED based lighting products are the core of Chroma-Q's portfolio.
Chroma-Q have gained a reputation for introducing award-winning, premium LED lighting solutions which deliver the highest performance levels required by today's most demanding applications - including concerts & theatre shows, film & TV broadcasts, retail, leisure & museum installations, exhibitions & corporate hospitality events.
About A.C. Lighting, Inc.
A.C. Lighting, Inc. is a value-added distributor of world-class lighting and associated rigging technologies for the theater, film, television, worship, exhibition, and commercial markets. A.C. Lighting Inc. a North American distributor for premier brands including Chroma-Q® LED lighting, Vista by Chroma-Q lighting and media control surfaces, PROLIGHTS high value and high-performance range of lighting, video and effects products, Luminex Networking Intelligence manufacturer of data distribution equipment, Manfrotto and Avenger: Professional Lighting Stands and Accessories, Follow-Me Remote Follow Spot Control Systems, LumenRadio wireless lighting controls, Jands StageCL and Prolyte staging and trussing.
For more information, please visit www.aclighting.com or call 416.255.9494
Don't forget to follow A.C. Lighting Inc. on Social Media:
Recent News
News Search