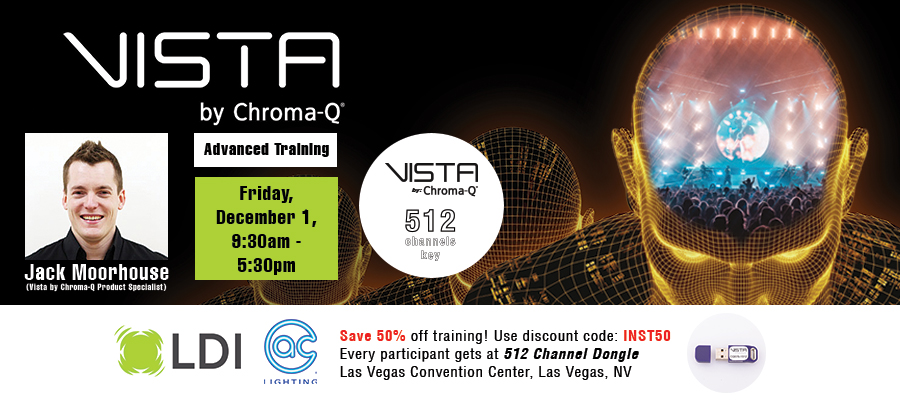 The beginner session has been updated to the advanced session!
Vista by Chroma-Q Advanced Level Training Offered During #LDI2023
Save 50% off training! Use discount code: INST50
Vista by Chroma-Q, in partnership with A.C. Lighting Inc., is excited to be a part of the LDInstitute hosting Vista by Chroma-Q training.
Taught by Jack Moorhouse, Vista by-Chroma-Q's Product Specialist (A.C. Entertainment Technologies), this advanced training course aims to recap the essential building blocks and features of Vista whilst at the same time explaining and demonstrating all of Vista's user-customizable preferences and advanced functionality.
Each participant will receive a 512-channel dongle.
Course Content Includes:
Pixel mapping
Controlling media servers with Vista - Creative possibilities with NDI (new)
How to keep your lights in sync with musical tracks & live scenarios - FX Masters - Ableton link (new)
How to manage large libraries of songs and play them back seamlessly (no matter the show/service order) - Snapshots & Workspaces - Inserted commands
Programming shortcuts and tips and tricks
How to speed up programming with the help of the command line
Extracts and how they can be used
Blocking, superblocking, and Alias cues
Learn timing and timecode
Advanced patching – transforms, fixture cloning, and swapping
Advanced sorts and selection orders
A glimpse into R5
Save 50% off training! Use discount code: INST50
Chroma-Q and Vista products are popular with the House of Worship market. While at LDI, check out our Color Immersion for the Worship Experience. This workshop is a part of the LDInnovation Conference and is available for free with your conference badge.
We look forward to seeing you at LDI. Chroma-Q will have exciting new technologies at InfoComm, including Chroma-Q's 2inspire and previews of Vista by Chroma-Q's major new functionality.
While at LDI, stop by A.C. Lighting Inc.'s booth #319. Register for a FREE exhibit hall pass with our VIP CODE: 10300
---
Chroma-Q and all associated product names are recognised trademarks, for more information visit www.chroma-q.com/trademarks. The rights and ownership of all trademarks are recognised. Whilst every effort has been made to ensure that the information is correct, Chroma-Q accepts no liability for errors or omissions. Technical specifications and data are provided for guidance only. Because we constantly aim to improve our products, we reserve the right to amend or alter at any time and without prior notice, the specifications of any product. E&OE.
Editor's note:
Chroma-Q® have been designing lighting equipment for over 25 years, with a reputation for high product quality, innovation and reliability.
Today, LED based lighting products are the core of Chroma-Q's portfolio.
Chroma-Q have gained a reputation for introducing award-winning, premium LED lighting solutions which deliver the highest performance levels required by today's most demanding applications - including concerts & theatre shows, film & TV broadcasts, retail, leisure & museum installations, exhibitions & corporate hospitality events.
---
Don't forget to follow A.C. Lighting Inc. on Social Media:
About A.C. Lighting, Inc.
A.C. Lighting, Inc. is a value-added distributor of world-class lighting and associated rigging technologies for the theater, film, television, worship, exhibition, and commercial markets. A.C. Lighting Inc. is a North American distributor for premier brands including Chroma-Q® LED lighting, Vista by Chroma-Q lighting and media control surfaces, PROLIGHTS high value and high-performance range of lighting, video, and effects products, Luminex Networking Intelligence manufacturer of data distribution equipment, Manfrotto and Avenger: Professional Lighting Stands and Accessories, Follow-Me Remote Follow Spot Control Systems, LumenRadio wireless lighting controls, Jands StageCL and Prolyte staging and trussing.
For more information, please visit www.aclighting.com or call 416.255.9494
Recent News
News Search