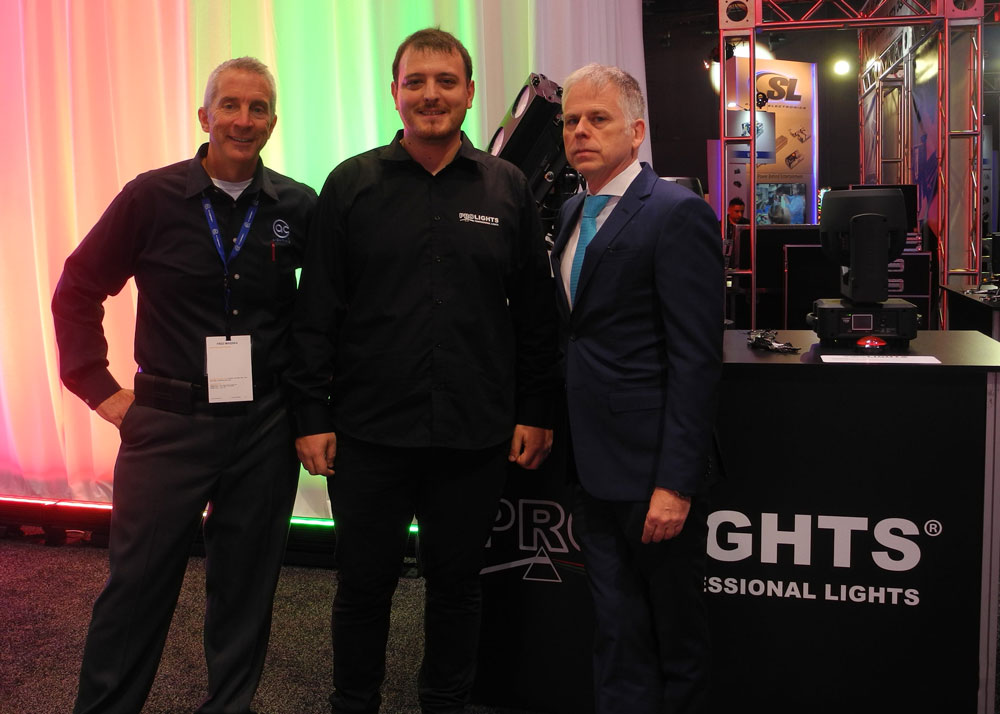 A.C. Lighting Inc., distributor of world-class lighting, rigging and video technologies, is pleased to announce its partnership with Italian manufacturer, ProLights – debuting at LDI, November 17-19th, at the Las Vegas Convention Center.
The Italian-based PROLIGHTS brand has become well-established and built up a great reputation across Europe, and is now looking to launch into the North American market. It focuses on the design and manufacture of lighting technologies and professional video products for events, TV and architectural applications. You can find ProLights products on stages, in concert halls and in studios around the world.
The ProLights range is being developed in response to the feedback of some of the world's leading designers. The philosophy is to provide "workhorse" products with the performance that users demand and deserve at a price that means they can deliver their creative concepts on budget.
Featuring exceptional build quality, performance and reliability, each product is manufactured using carefully chosen components & materials, and undergoes rigorous quality control procedures to deliver reliability and satisfaction time and time again.
A.C. Lighting Inc. will distribute a selection of models from ProLights' LED-based Moving Heads, Static Lights, and Battery Powered Lights ranges.
The Moving Heads family includes LED spot, wash light, wash-beam and beam options, which deliver stunning light levels and colors, and are compact in size.
The Static Lights family includes an LED replacement for a traditional 4 cell DWE blinder. Each of the individually controllable cells delivers a consistent, powerful punch that has been designed to read in even the largest environments.
The Battery Powered Lights family are ultra-compact, wireless, battery, LED accent luminaires designed to complement uplighting both inside and outside a room.
"This is definitely an exciting time for A.C. Lighting Inc." said Fred Mikeska, Vice President of US & Canadian Sales. "We strive to deliver only the best products and service to our clients. ProLights products offer us an incredible range of moving lights for the professional lighting market. Our partnership with ProLights is a fusion of high quality products that offer high value while being reliable, backed by a distributor that provides world class service, dedicated to delivering state-of-the art solutions to the entertainment industry. We have known ProLights for some time and are excited to share the brand and its products with the U.S. and Canadian marketplaces."
"I am proud of this partnership" comments Fabio Sorabella, Managing Director at ProLights. "A.C. Lighting Inc. is the ideal company to bring our products into the professional lighting market in North America, where ProLights is aiming to be. This partnership within the North American market is a key part of our companies' growth plans."
ProLights is a family owned operation, located in Italy, that has creative, innovative, value added products. They offer 20 years of manufacturing experience, now backed by A.C. Lighting Inc.'s service, support and distribution.
Visit the A.C. Lighting Inc. booth #2160 at LDI 2017 for your demonstration of the ProLights product range and other leading technologies. To learn more about ProLights or A.C. Lighting Inc., please visit our website www.aclighting.com.
---
ABOUT A.C. LIGHTING, INC.
A.C. Lighting, Inc. is a value-added distributor of world-class lighting, associated rigging and video technologies for the theater, film, television, worship, exhibition and commercial markets. A.C. Lighting Inc. is the exclusive North American distributor for premier brands including Chroma-Q® LED lighting, Jands Vista lighting and media control, LumenRadio wireless lighting controls, ArKaos Pro media servers and Prolyte staging and trussing.
For more information visit www.aclighting.com or call 416.255.9494
Recent News
News Search