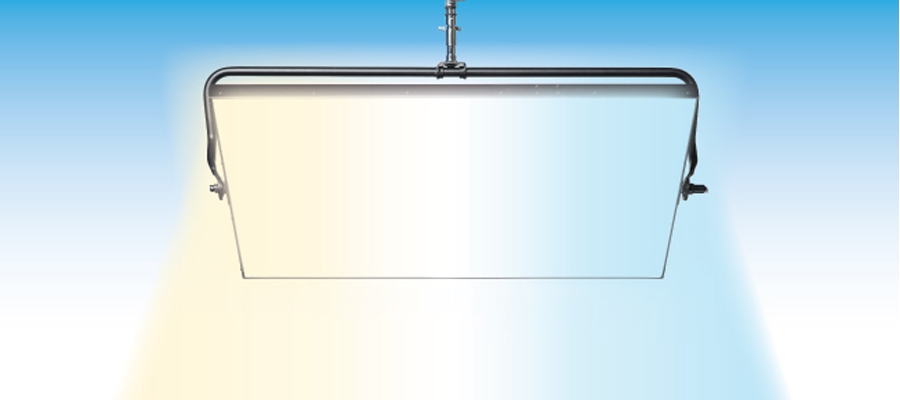 North America, February 7, 2020 – Chroma-Q®, a world-renowned brand of premium performance LED lighting solutions, manufactured in North America, launched their new Space Force twobyfour™ LED soft light panel at BSC Expo 2020, Battersea Evolution, London earlier this month.
A scaled-up version of the onebytwo™, the twobyfour joins the award-winning Space Force family of bright, high quality, modern replacements for conventional sources used in film and TV studios, live broadcast, vlog, and photographic applications.
Like its more compact counterpart, it can be tuned from 2800K to 6000K with a superbly smooth intensity gradation, but in addition, up to 8 of its distinct cells can be controlled individually to create various shades or effects. The two soft light panels will be on show with the original Space Force LED space/soft light, which has been widely adopted by major Film & Television companies.
You will be able to find this fixture during NAB, Cine Gear, and Infocomm this spring. Get your personal demonstration of the range from Chroma-Q's North American Dealer, A.C. Lighting Inc. Alternately, please visit www.aclighting.com/space-force-twobyfour/ for more information and to schedule a demo. Check out our events page for complete details.
Follow Chroma-Q on: www.facebook.com/chromaq.lighting or www.instagram.com/chromaq
---
Chroma-Q and all associated product names are recognised trademarks, for more information visit www.chroma-q.com/trademarks. The rights and ownership of all trademarks are recognised. Whilst every effort has been made to ensure that the information is correct, Chroma-Q accepts no liability for errors or omissions. Technical specifications and data are provided for guidance only. Because we constantly aim to improve our products, we reserve the right to amend or alter at any time and without prior notice, the specifications of any product. E&OE.
About Chroma-Q
Chroma-Q® has been designing lighting equipment since the mid 1990s, when they established a reputation for high product quality, innovation and reliability with hugely successful products such as the Original colour changer.
In 2004 Chroma-Q launched their first LED fixture, the Color Block DB4™ - a product so popular that it's still selling today in a newer incarnation with upgraded technologies.
Since then, Chroma-Q have a gained a reputation for introducing award-winning, premium LED lighting solutions which deliver the highest performance levels required by today's most demanding applications - including concerts & theatre shows, film & TV broadcasts, retail, leisure & museum installations, exhibitions & corporate hospitality events.
Chroma-Q have an equally impressive track record developing a range of lighting colour changers, effects, gobo rotators, and various control & data distribution products.
About A.C. Lighting, Inc.
A.C. Lighting, Inc. is a value-added distributor of world-class lighting and associated rigging technologies for the theater, film, television, worship, exhibition and commercial markets. A.C. Lighting Inc. is the exclusive North American distributor for premiere brands including Chroma-Q®LED lighting, Visa by Chroma-Q lighting and media control surfaces, PROLIGHTS high value and high-performance range of lighting, video and effects products, Luminex Networking Intelligence manufacturer of data distribution equipment, Follow-Me Remote Follow Spot Control Systems, LumenRadio wireless lighting controls, Jands StageCL and Prolyte staging and trussing.
For more information, please visit www.aclighting.com or call 416.255.9494
Follow us on: www.facebook.com/aclightinginc and www.instagram.com/aclightinginc
Recent News
News Search