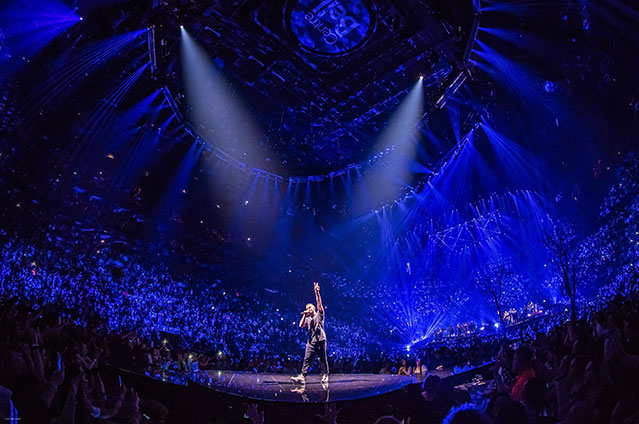 Justin Timberlake is currently on a world tour promoting his most recent hit album "Man of the Woods." Lighting is an extremely important element in Justin's live show, and the way that he is key-lit is of utmost importance. Traditional follow spots aren't really an option so the Fireplay designed lighting rig incorporated the use of a ground-based tracking system allowing numerous effects which could be used to light Justin wherever he moved on the extensive stage, which covered the entire arena floor.
Mid-way through the tour, Fireplay and Justin's Production team realized that the chosen tracking-based follow-spot system was not up to the demands of the tour. The crew were facing challenges with long set up and calibration times of the system. With numerous successful tours on the road using the Follow-Me system Fireplay decided to bring that Technology to the tour. On their stop in Huston, Texas, they switched to Follow-Me's Remote Follow-Spot System.
Montreal-based Solotech, who are the Lighting and Video vendor for the tour, provided the Follow-Me Remote Follow-Spot system for Justin Timberlake's Man of the Woods tour. They have a Follow-Me Product Specialist who oversees all their tours that are using Follow-Me ensuring that everything is operating smoothly and efficiently.
"What we like about the Follow-Me Remote Follow-Spot System is its laser precision, and accurate position of the cameras and instruments in the air, that provide a quick calibration and system set up saving us 2-3 hours on each set up." Commented Antoine Malette, Technical Advisor for Solotech's Lighting Department.
Follow-Me's Remote Follow-Spot System has provided a new freedom for Solotech and the follow-spot operators. Once they get to know the system, they find that it is really easy to use. All the operators have to do is keep Justin in the cross-hairs and follow him around the stage.
The system is software based using a camera and moving lights in the truss. The operator sits at a computer controlling the entire system via a mouse, monitoring the stage from the camera feed on their MAC computer. "We have the freedom to move the lights via the mouse to highlight any performer on the stage, using our choice of lights." remarks Antoine Malette.
Solotech has duplicated the set up to create a 100% redundancy. "It's a lot of gear, however, we also have a vast array of effects. We wanted to ensure we could create the effects desired by lighting designer Nick Whitehouse while tracking Justin at all times." commented Antoine Malette.
Nick Whitehouse commented "The Follow-Me system is fantastic, and the support has been world class. It's the best follow-spot tool I know of that's fast, accurate and flexible. It's easy to control any light in the rig at any time and makes lighting JT in this complicated show and large environment easy. I know its saved JT's Lighting Director Brian Vaughn hours of time daily which is essential on a show of this size."
Products Used:
---
About A.C. Lighting, Inc.
A.C. Lighting, Inc. is a value-added distributor of world-class lighting, associated rigging and video technologies for the theater, film, television, worship, exhibition and commercial markets. A.C. Lighting Inc. is the exclusive North American distributor for premiere brands including Chroma-Q®LED lighting, Visa by Chroma-Q lighting and media control surfaces, ProLights high value and high-performance range of lighting, video and effects products, Luminex Networking Intelligence manufacturer of data distribution equipment, Follow-Me Remote Follow Spot Control Systems, LumenRadio wireless lighting controls, Jands StageCL and Prolyte staging and trussing.
For more information, please visit www.aclighting.com or call 416.255.9494
About Follow-Me Remote Follow Spot Control
Follow-Me is a cost-effective Art-Net based software package that allows you to utilize standard moving lights as follow-spots. Where traditional methods of using FOH or truss mounted follow spots impose cost and rigging implications, Follow-Me offers a cost saving, quick to implement alternative. The Follow-Me product line benefits lighting designers, technical producers and event planners where performers require illumination. Using moving head lights, Follow-Me can be used to follow one or more performers, while individual fixture selection offers additional functionality of pre-set positioning for solo's and surprise performances. Follow-Me offers a range of advantages over traditional follow spot usage including, lower labor costs, freedom in lamp positioning, improved follow-spot angles, eliminating kill seats, accurate timing for color bump cues, and following performers with gobo effects or color chases, plus, the operator no longer has to climb truss to operate the light.
About Fireplay
Fireplay is collaborative design studio. Their integrated team creates innovative spaces for the music industry around the world. Starting from breakthrough concepts leading up to perfect technical and production delivery for tours, events and unique experiences. Working closer with the artist is the best thing we know how to do.
Contact Desi@fireplay.com 323.480.4900
About Solotech
Solotech is a world leader in audiovisual and entertainment technology with 13 locations across Canada, the United States and Europe. Thanks to an inventory encompassing over 300 renowned manufacturers, and strategically located warehouses, Solotech is the one-stop shop for audio, video, lighting, rigging, soft goods, control and collaboration solutions & services.
With over 40 years of experience, Solotech is internationally recognized for its expertise in Live Productions and Systems Integration. Its Live Productions Division offers an inventory of cutting-edge rental equipment for tours as well as special and corporate events. Its Sales and Systems Integration Division designs, sources, delivers and installs AV systems and solutions, notably for cultural and sports venues, schools, businesses and retail.
Solotech employs 1,200 professionals in its offices located in Montreal, Quebec City, Saguenay, Ottawa, Toronto, Las Vegas, Nashville, DeKalb, Los Angeles, Heywood, London and Redditch.
Justin Timberlake, Man of the Woods Tour, Photo Courtesy of Ralph Larmann.
Recent Studies
Studies Search