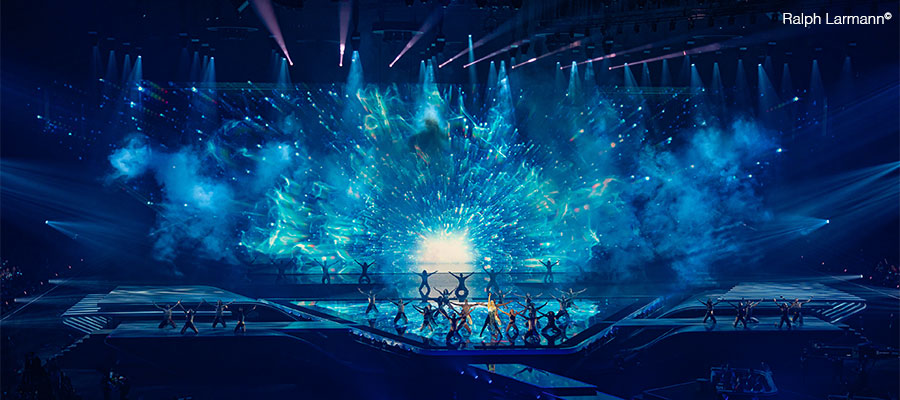 This year's Eurovision Song Contest has been recognised as a pivotal moment in the return of large-scale entertainment events in a post-COVID world. Performed in front of a live audience of 3,500 plus delegates in the Greenroom on the arena floor, ESC captivated both the live audience and the 183 million watching on television from 234 countries worldwide.
The entire event was under the supervision of Eurovision's Head of Production, Erwin Rintjema.
At the heart of lighting designer, Henk-Jan van Beek's dynamic design were the tools to guarantee that the Multi-camera directors received all the key lighting required to bring the performers to the small screen exactly as they would wish.
The Netherlands-based Follow-Me 3D SIX remote tracking system (as part of the lighting specification delivered by the official technical supplier, Ampco Flashlight) was used to keep the Eurovision performers in the spotlight, wherever they went on stage. Designed to accommodate an unlimited number of fixtures per artist, the Follow-Me package is not limited to any type or brand of luminaire. In the Ahoy, a total of 64 fixtures ran through Follow-Me 3D, whilst receiving fixture positional data from the motion control system over PosiStageNet (PSN). Follow-Me understands all fixture positions and orientations in 3D space and uses this information to keep any of those chosen fixtures on the performers. This unique tracking ability is achieved by a single Follow-Me system, following up to six performers, using one PoE-based Follow-Me Mouse Console per operator.
There were the fifty-eight Huracán-X fixtures calibrated to the tracking system and used as key lights and followspots on the artists. For the second semi-final interval act - The Power of Water by Davina Michele & Thekla Reuten. Here, the Huracáns were integrated into the Follow-Me system to follow the dancer in motion.
"This set-up allowed me to have a giant number of options per performance," explains Henk-Jan Van Beek. "By connecting Follow-Me through PSN to the motion control system, we were able to ensure that the fixtures stayed on their targets perfectly while the trusses were in motion. In total there were sixty-four fixtures running through a single Follow-Me system: 58 x Ayrton Huracán-X and six Robe BMFL LTs. I would like to thank our brilliant Senior Follow Spot Systems Tech, Dennis Berkhout for making sure everything stayed on track and for making such an important contribution to the whole look of the show."
Product Manager for Follow-Me, Tim van Dijck comments,
"We were really excited to be involved in this groundbreaking event. The whole industry has clearly struggled over the last year or so; to be one of the companies involved in Eurovision'21, a COVID Safe pilot event for the Netherlands, is an honour. This comes on top of Follow-Me's expansion into new markets and gives us confidence that the industry is ready to bounce back with a bang."
Learn More: www.aclighting.com/follow-me-spot-control
Don't forget to follow A.C. Lighting Inc. on Social Media:
Photo credit: Ralph Larmann
About A.C. Lighting, Inc.
A.C. Lighting, Inc. is a value-added distributor of world-class lighting and associated rigging technologies for the theater, film, television, worship, exhibition, and commercial markets. A.C. Lighting Inc. is the North American distributor for premiere brands including Chroma-Q®LED lighting, Vista by Chroma-Q lighting and media control surfaces, PROLIGHTS high value and high-performance range of lighting, video and effects products, Luminex Networking Intelligence manufacturer of data distribution equipment, Manfrotto and Avenger: Professional Lighting Stands and Accessories, Follow-Me Remote Follow Spot Control Systems, LumenRadio wireless lighting controls, Jands StageCL and Prolyte staging and trussing.
For more information, please visit www.aclighting.com or call 416.255.9494
About Follow-Me Remote Follow Spot Control
Follow-Me is a cost-effective Art-Net based software package that allows you to utilize standard moving lights as follow-spots. Where traditional methods of using FOH or truss mounted follow spots impose cost and rigging implications, Follow-Me offers a cost saving, quick to implement alternative. The Follow-Me product line benefits lighting designers, technical producers and event planners where performers require illumination. Using moving head lights, Follow-Me can be used to follow one or more performers, while individual fixture selection offers additional functionality of pre-set positioning for solo's and surprise performances. Follow-Me offers a range of advantages over traditional follow spot usage including, lower labor costs, freedom in lamp positioning, improved follow-spot angles, eliminating kill seats, accurate timing for color bump cues, and following performers with gobo effects or color chases, plus, the operator no longer has to climb truss to operate the light.
Recent Studies
Studies Search