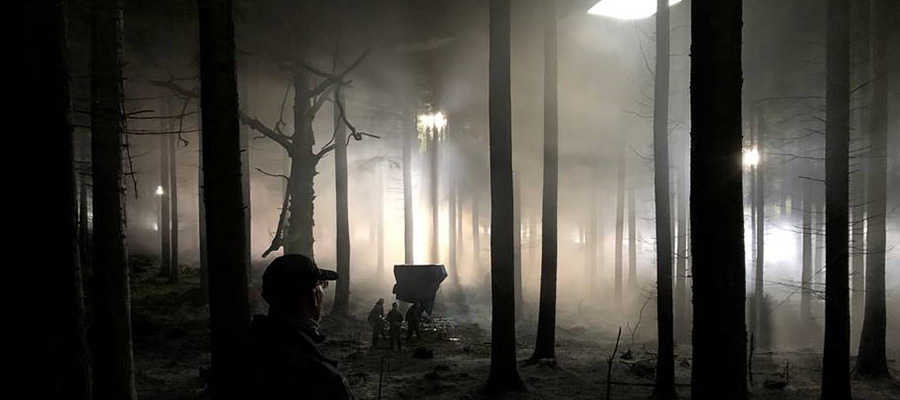 Having developed and introduced LED solutions for over 15 years, award-winning innovators, Chroma-Q®, have built a steady following within the production industry, that continues to see the creative application of their low energy technology by a growing number of crews.
A selection of products from the company's range of low-energy solutions was put to great use recently, with experienced Gaffer, Wayne Shields (Brave New World, The Witcher season 2).
Wayne says "I've worked with Chroma-Q products for a few years now. As an LED source, they deliver some great results, powerful output with plenty of flexibility when you need it."
Wayne and his crew recently made use of the company's Color Force IITM LED battens, with an installation designed to deliver a range of creative, in-camera effects.
He explains' "We used the Color Force II to illuminate a large-scale interior and create some pretty intense fire effects, within a listed building in central London. The fixtures work well for this type of application - quick to set up and simple to use. The overall effect was easy to control and delivered some great looks."
Wayne has also achieved a strong performance from the Brute Force during filming with Cinematographer Romain Lacourbas AFC, at a remote exterior location.
Drawing just 15 amps @ 240V The Brute ForceTM from Chroma-Q is a true LED full-color RGB-W light source, fully dimmable with an extended CCT range between 2,000K and 10,000K, using Chroma-Q Studio Force IITM battens. Available as 6-lamp and 4-lamp options, the Brute Force's multi-point fixings allow units to be easily combined to form a powerful, low-energy alternative to a 'conventional' quarter Wendy.
"The Brute Force really was both a surprise and delight to work with," Wayne continues, "we rigged it overhead for a night shoot, in some pretty dense woodland. The output was superb, drawing only minimum power, which was an added bonus in such a remote setting. The fixture has a great spread and the weather cover accessory made it particularly useful for a UK location during winter."
Chroma-Q's Global Brand Manager, Paul Pelletier comments, "We're always delighted to receive positive feedback on the way Chroma-Q is performing both in the studio and on location. We are extremely grateful to Wayne for sharing his experience using our products. We continue to be proud to be supporting crews, cinematographers, and gaffers right around the world."
Please visit www.chroma-q.com for more information and a full list of Chroma-Q dealers.
Follow us on:
www.facebook.com/chromaq.lighting
---
Studio Force II patents pending
Chroma-Q and all associated product names are recognized trademarks, for more information visit www.chroma-q.com/trademarks. The rights and ownership of all trademarks are recognized. Whilst every effort has been made to ensure that the information is correct, Chroma-Q accepts no liability for errors or omissions. Technical specifications and data are provided for guidance only. Because we constantly aim to improve our products, we reserve the right to amend or alter at any time and without prior notice, the specifications of any product. E&OE.
Editor's note
Chroma-Q® have been designing lighting equipment since the mid 1990s, when they established a reputation for high product quality, innovation and reliability with hugely successful products such as the Original colour changer.
In 2004 Chroma-Q launched their first LED fixture, the Color Block DB4™ - a product so popular that it's still selling today in a newer incarnation with upgraded technologies.
Since then, Chroma-Q have a gained a reputation for introducing award-winning, premium LED lighting solutions which deliver the highest performance levels required by today's most demanding applications - including concerts & theatre shows, film & TV broadcasts, retail, leisure and museum installations, exhibitions & corporate hospitality events. Chroma-Q have an equally impressive track record developing a range of lighting colour changers, effects, gobo rotators, and various control & data distribution products.
Recent Studies
Studies Search